Welcome to Florida Kayak Angler Guided Fishing Charters
Thanks for visiting Florida Kayak Angler Guided Fishing Charters. Robert is the only kayak guide you need to book a charter with to guarantee yourself a great time kayak fishing on the Indian River (IRL), Mosquito Lagoon(ML), and Banana River(NMZ). Robert is one of just a few "Kayak Specific" fishing guides Legally allowed to Guide in the Merritt Island Refuge, so don't be fooled by kayak guides advertising charters to these waters illegally. Check the permitted guides list here (Permitted Guides). Florida Kayak Angler LLC is 100% Insured and MIR Permitted, so you can rest assured you are in professional hands. I pride myself on putting my clients first, and making sure you are having a memorable time while catching some of the Space Coast's most amazing game fish. Let my years of experience guide you to the catch of a lifetime!!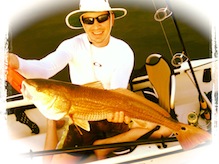 Florida's most sought after game
fish the "RedDrum". - January 2013 -
Visting Orlando and want to experience more than just the theme parks, fancy hotels, and exspensive shopping malls. Maybe you're a local and just don't have enough time to get out on the water and track down the sweet fishing spots. No worries we have you covered. Kayak fishing is fun for one or the whole family, with plenty to see and do catching fish isn't the only thing in store for you. Mother nature has provided us with a abundance of wildlife like many different species of exotic flowers, plants, wild animals, and a assortment of marine life. You can rest assured that when you book a guided kayak fishing trip with Florida Kayak Angler your money is well spent, and you will come away with memories to last you a lifetime, with out the big dent in the wallet.
We guarantee you a great fishing experience or your money back!

Florida's beautiful Sunset over Mosquito Lagoon
Kayak fishing is supposed to be fun, and its my job to make sure you are having fun while enjoying the pristine waters of Florida. The nature you will be engulfed in will bring you back in touch with the earth, the wildlife that inhabits it, as well as your primal instincts and if its not, then i'm not doing my job. I pride myself in what I do so much that if you are not satisfied with your kayak fishing charter I will refund your money or schedule you another charter if you choose. I unfortunately cannot guarantee you will catch fish, but I do guarantee you will have many of oppurtunities to catch fish and I will do everything I can to get you hooked up.



Catching Red Drum on the Indian River Lagoon!
- January 2013 -